Carved Bangle Bracelet Art Deco Red Apple Juice Transparent Cherry Red Lucite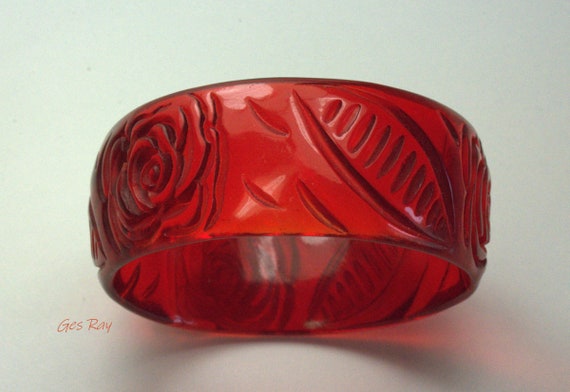 [Picked from ETSY]
Vintage Art Deco from 1950's highly engraved and deeply carved bangle bracelet. The carving is a beautiful transparent glowing deep red apple / cherry juice color. The inner circle of the bracelet is 2 3/4" in diameter, the entire bracelet is almost 3" in diameter, the width of it is 1 1/8". The weight of one bracelet is 1.5 oz.It is for the wrist of 6"-6 3/4". Excellent condition.
Please see enlarged pictures for a detailed view.
Please, be noted, we leave a feedback to our customers ALWAYS, if they leave it first.
Please, follow our store, if you like it, we post new items every day.
Thank You for visiting our Etsy https://www.etsy.com/shop/VictoryIssweet store!
>>> Buy It Now ! <<<<