13 Millefiori Venetian Trade Beads Green Africa Rare Loose 117316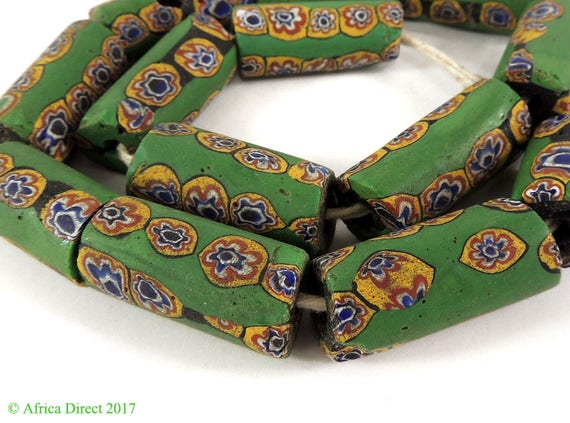 [Picked from ETSY]
PRODUCT DETAILS
+ Title – 13 Millefiori Venetian Trade Beads Green Africa Rare Loose
+ Other Names – Mosaic beads
+ Type of Object – Wound and decorated glass
+ Made In – Venice
+ Traded In – Africa
+ Overall Condition – Good. Some of our beads have traveled at least three continents, and have graced numerous owners. Small chips, corrosion, and pitting are a normal part of their patina attesting to their age and extensive use.
+ Damage/Repair – Chips and pitting.
+ Bead Size – 13-14 mm diameter. 3 mm hole. See picture with penny for size comparison. U.S. penny is 19mm in diameter.
PRODUCT DESCRIPTION
Additional information: Millefiori is an Italian word meaning " a thousand flowers". Millefiori beads are also known as
>>> Buy It Now ! <<<<