Antique Small English Leather Suitcase, Musical Instrument Case, Storage Case, Brass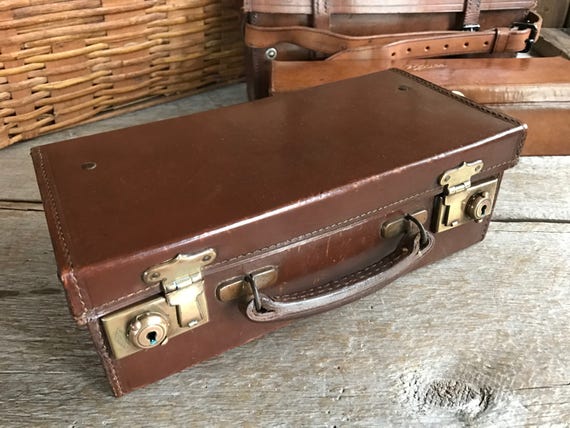 [Picked from ETSY]
Vintage English Leather Suitcase, Instrument Case
c 1910s, 1920s
Quality made antique English leather small suitcase
for musical instrument, storage, or Edwardian travel
case. Thick leather handle, brass lock closures, one
interior compartment with a lovely linen fabric interior
and leather lid straps. Stamped "Warrantied Hide".
Brass lock is stamped "British Made".
Measures; 11.75" by 5 5/8", by 4" depth.
Wonderful vintage condition, has been lovingly cared
for, for many years. with scuffing, edge and corner wear.
Some wear from use to the interior however, very clean.
no key.
Excellent quality and craftsmanship with character!!
Thanks for viewing
Happy to check on shipping prices and options.
>>> Buy It Now ! <<<<