Antique Sterling Notepad Pencil Chatelaine Art Nouveau Carnet de Bal French Necklace Pendant France Vintage Necklace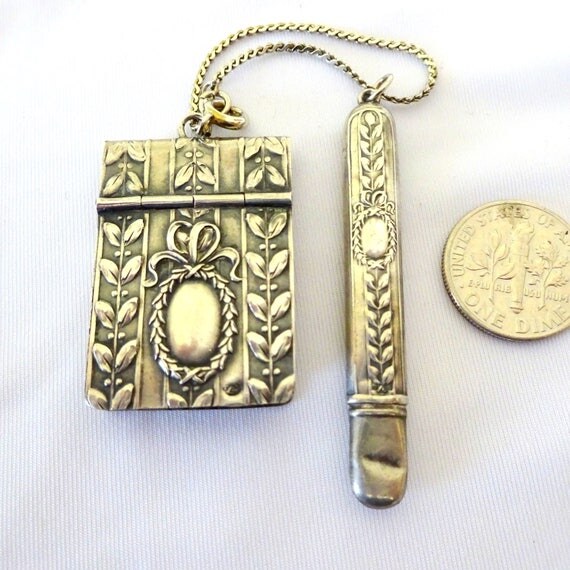 [Picked from ETSY]
Antique sterling silver notepad, pencil,
Art Nouveau carnet du bal. Originally, women
used these to sign up partners at a ball. Worn as
a chatelaine at the waist.
Over 120 years old, this rare piece includes
the pencil in a beautiful sterling case. Rare to
find the carnet with the pencil.
It would be unique to wear on a ribbon
or chain. Also, precious hung on a wall with
a collection of precious objeccts.
Classic Art Nouveau design elements with the
cartouche, olive branches, bow. A superb
example of the Napoleon III period. A fine
touch is that the papers have gilted edges!
Very rare and also makes a great pendant.
Pad: 1 1/2" L. Pencil: 2"L.
Shipped with insurance.
www.etsy.com/shop/allvintagefrench
>>> Buy It Now ! <<<<