Clown Mask Halloween Faux Wood Carved With Magnetic Nose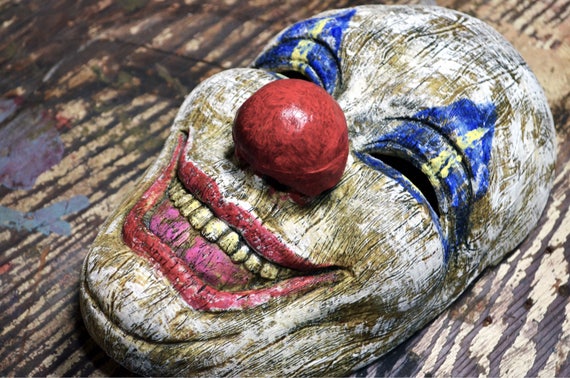 [Picked from ETSY]
This retro, faux wood clown mask is made to order and can take 2-3 weeks to process.
It is a custom vintage replica clown mask with a faux wood carved finish. Imagine wearing this unique clown mask at your Halloween party this year! Each mask is unique in its finishing and paint job so you'll have a one of a kind piece of art, even if you happen to cross paths with someone else wearing one of our masks. Yours will be one of a kind, something to use as decoration all year round!
This includes an elastic band and removable, magnetic clown nose.
It was completely made by hand from start to finish. It's casted in a rigid resin which has a 75D shore hardness. It can be sanded or heated and manipulated for a personalized fit if you d
>>> Buy It Now ! <<<<