Come Hither, MERMAID Cufflinks, Irresistible Nude Loreleis, Unusual Large Sculptural Cuff Links, Vintage Jewelry/Accessories, Men,Unisex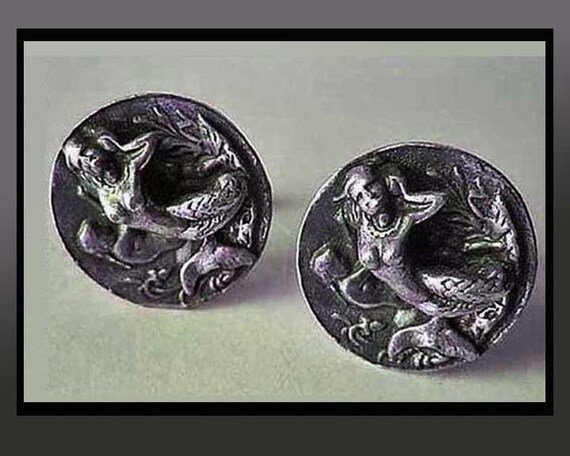 [Picked from ETSY]
Two sexy dames with tails are the stars of these good size cufflinks.
They're very detailed–in the background is a low-relief mermaid and sea vegetation. The front mermaid is almost three dimensional– you can see that come-hither Rhine Maiden look in her eyes….try to resist her.
These great links are unmarked for the maker and metal content. They may be German silver (an alloy of zinc, copper and nickel) or pewter but they're so well made I'm surprised they're not a more precious metal. The only mark on them is the patent number for the link findings.
These were probably designed as men's cufflinks, but no reason why women can't wear them as well.
Size: Just under 1" diameter
Marks: Patent number on
>>> Buy It Now ! <<<<