Frye Brown Leather Riding Boots, High Heels, Size 6,5 US, Honey Brown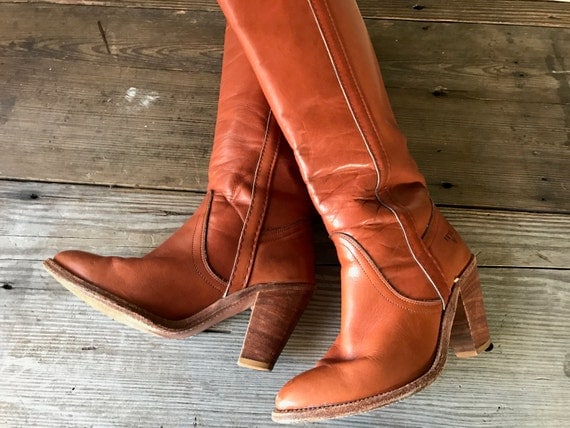 [Picked from ETSY]
Frye Knee High Campus Boots Size 6.5 B US
Made in USA ~~ c 1970s
USA Frye boots, leather sole and insole, wood stacked
heels, interior fabric pull on straps, Frye logo on sides of
heels. Stamped "Made in USA", "Frye" inside, with original
Frye label inside. Honey Brown.
Measure; 9.75" sole, 17.5" height, 14.5" circumference,
8.75" insole, heel height is 3", 3.5" width, Please
check all measurements well & refer to sizing chart
below for sizing questions and conversions. These
are stamped inside 6.5 B.
http://www.zappos.com/measure-your-shoe-size
Nice condition with wear, marks to the leather and some
creasing and scuffing throughout. Soles show wear from
use with heel guards in plac
>>> Buy It Now ! <<<<