Medium Choose Your Own Bracelet/Ring Organizer Set, Stud Earring Holder, Earring Organizer, Home Decor, Jewelry Display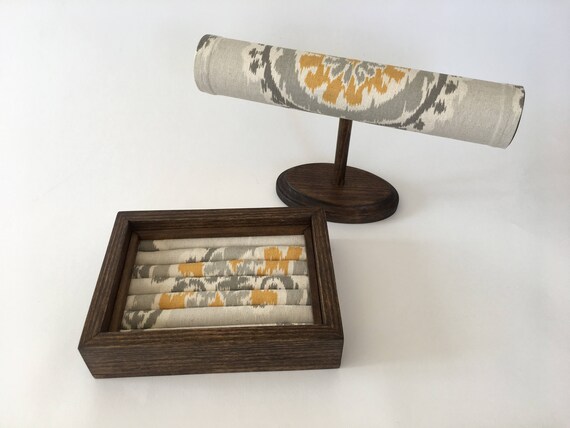 [Picked from ETSY]
This listing is for a matching jewelry organizing set. Both items are cut, sanded and painted/stained. Choose your favorite fabric/stain for both coordinating items.
The Bracelet stand is approximately 6 inches high, 11 inches wide and 3 inches deep. The wooden dowel has a 2 inch circumference. Fabric is attached to the dowel after the finish is applied.
The medium earring/ring holder is approximately 7.5" x 5.5" and 1.5" tall. The inside fabric housing is 5.75" x 4".
Photo 1 – Walnut Stain / Fabric #3
Photo 2 – Gray Paint / Fabric #4
*These are stock photos. Your item may look slightly different based on the grain of the wood and how the fabric is applied.
>>> Buy It Now ! <<<<