Raw Aquamarine Ring: march birthstone ring, aquamarine engagement ring, alternative engagement ring, aquamarine jewelry, raw crystal promise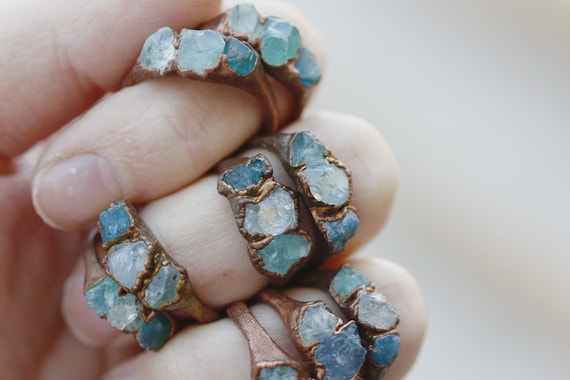 [Picked from ETSY]
Handcrafted copper ring, featuring a mix of blue aquamarine & apatite crystals.
Listed sizes are ready to ship the next day. If you want a size that is not listed, select "Other Ring Size" in the options and let me know what size you would like in a note at checkout. Custom sizes take longer; see shop announcement for the current processing time.
Free shipping for any additional items purchased with this.
Store in the jewelry box with the tarnish resident tab that is provided with your order.
The process: I start out with a handmade hammered ring, which gives the copper some pretty texture. I attach the crystals to the ring, then sand the mounting to get the shape I want. The ring then goes through a really neat process calle
>>> Buy It Now ! <<<<