Size 9 Sneaker boots, Funky Boots, Dashiki, Angelina, Ankara African Shoes, African Boots, OOAK, Sandoodles Bootz, Patchwork, Fair Trade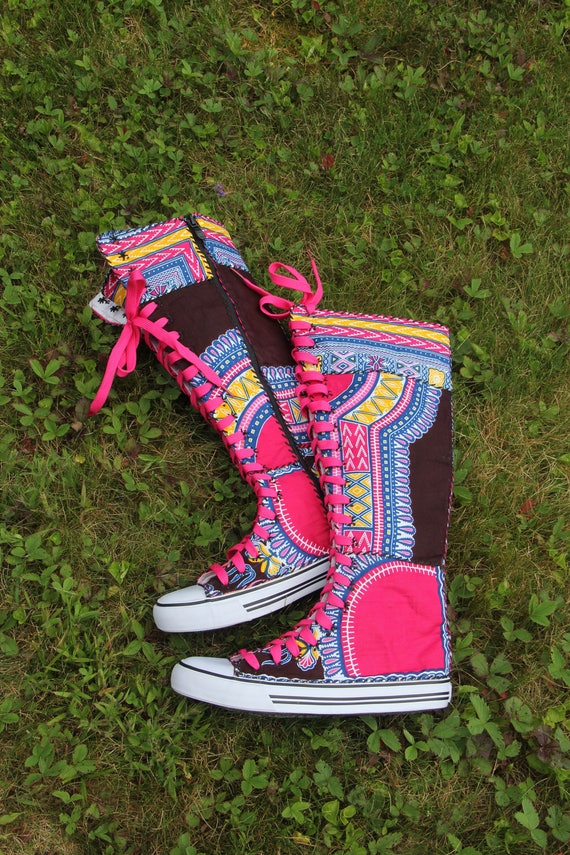 [Picked from ETSY]
Sandoodles Bootz – One-Of-A-Kind
One-Of-A-Kind African Dashiki Angelina Boots – Size 9 X-Hi Sneaker Boots (labeled Size 10 but they run small so we sell them as a size 9).
The size 9 (in the photo with 2 pairs of boots) is the pair with only pink laces. The other pair is size 10 and in a separate listing.
These funky boots are dark maroon with fuchsia pink as the primary 2 colors.
You will turn heads where ever you go when you go out wearing your OOAK (one-of-a-kind) boots designed by Sandoodles.
We took a new pair of 17" high sneaker boots & redesigned the outside into a one-of-a-kind pair.
You are not like anyone else, so why should your boots, clothing or accessories be?
Designed in the USA & Ghana and finished in Ghana. Our
>>> Buy It Now ! <<<<