Vintage Style Lab Created Emerald Ring in White Gold Filigree Crown // Kashmir Created Round Emerald Engagement Ring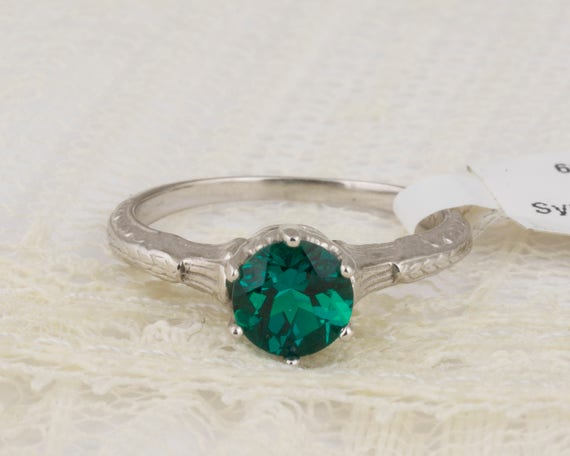 [Picked from ETSY]
A recreation of an elegant vintage solitaire design, this ring has a lovely deep green emeral center stone in a vintage crown setting.
Metal: 14k White Gold
Gemstone Type: Lab Created Emerald*
Gemstone Shape: Round
Gemstone Size: 6mm
Gemstone Weight: 0.80ct
Design Elements: Prong set, filigree details, vintage style
Condition: New
Item Weight: 2.7g
Item Measurement: 7mm
Ring Size: 5.75
Item Number: 6321
Item Stamped: 14k CJD
*This is a man-made (synthetic) gemstone. Lab created gems are made from the same chemical composition as a natural stone, only they are made in a lab instead of in the ground; this is not an imitation gemstone.
——-
Item Measurements are:
For rings – from top view, bottom to top edge of entire piece
For neckla
>>> Buy It Now ! <<<<