World Map Metal wall art – 50" wide X 30" tall – 5 separate pieces – Choose your patina color 🙂 Shown in the Rust Patina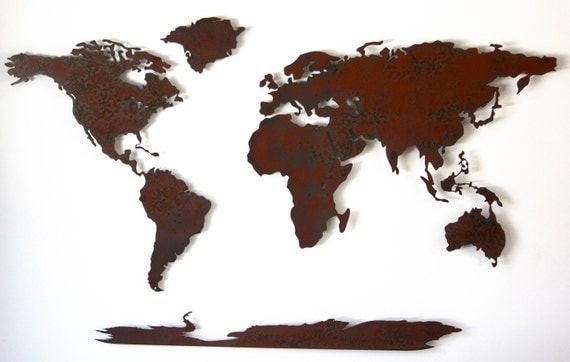 [Picked from ETSY]
World Map Metal wall art – 50" wide X 30" tall – 5 separate pieces – Choose your patina color 🙂 Shown in the Rust Patina
Consists of 5 individual pieces hung separately.
You choose one of 28 colors from my palette. Each color has rust accents as shown.
Has a nice quality indoor/outdoor satin clear coat sealer.
Entire size as it's hung measures 30" tall x 50" wide.
Stand offs serve as hanging brackets and keep it 3/4" from your fence or wall to create a unique look with cool shadows.
•••••• HANGING ITEM ••••••
The top two 3/4" deep stand offs serve as hanging brackets on each of the world map pieces.
Start with the largest piece.
Simply use two medium sized nails with a head o
>>> Buy It Now ! <<<<