Gold Velvet Bell Bottoms, high waisted flare pants, eco-friendly clothing, hemp clothing women, hand dyed clothing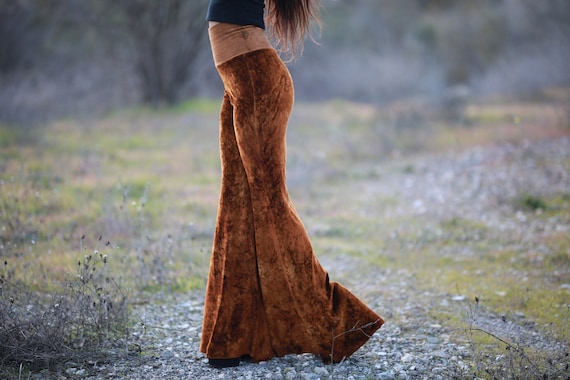 [Picked from ETSY]
"Golden Hour" Bells
Bamboo Velour Bell Bottoms
Velvety, shimmering and just plain groovy, our velour bell bottoms are an absolute must! Made of organic bamboo velour and hemp. Select your size and inseam for a perfect length.
Materials:
Bamboo Velour- 67% bamboo/28% organic cotton/ 5% polyester
*DISCLAIMER*
The garment you are about to purchase is HAND DYED. We have a unique dye process which yields beautiful, dimensional colors. We do our best to produce consistent colors but some variation in hues and mottling is to be expected. We DO NOT accept returns or exchanges based on dye preferences alone. By purchasing from us, you are agreeing to these terms.
Production time is around 6-10 weeks. We take great care and pay close a
>>> Buy It Now ! <<<<