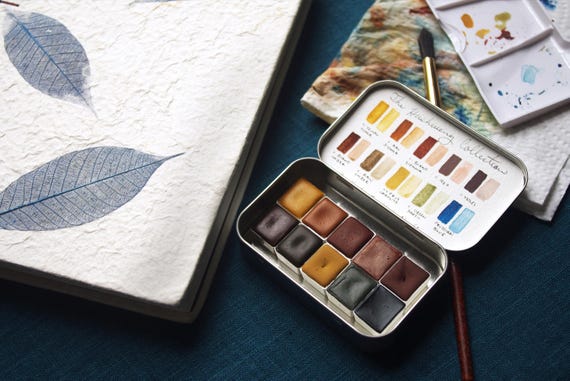 [picked up from Etsy]
The Hushwing Collection consists of 10 half-size pans of handmade, professional grade watercolor. All pigments receive a permanent lightfastness rating (8, on a scale of 1 to 8) and are non-toxic.
The pigments of The Hushwing Collection include:
-Colonial Yellow Ocher
-Colonial Raw Sienna
-Colonial Burnt Sienna
-Colonial Red
-Colonial Violet
-Colonial Raw Umber
-Colonial Burnt Umber
-Cyprus Green Earth
-Cyprus Jarosite
-Prussian Blue
Each pan is magnetized and packaged in a metal travel tin. All orders are shipped with a handwritten swatch card, reusable hand dyed silk ribbon, and a small sheet of 100% cotton rag handmade paper to test your watercolors with.
During production, pigment is mulled by hand on a glass slab with a combination…
$ 115.00
>>> Buy It Now ! <<<