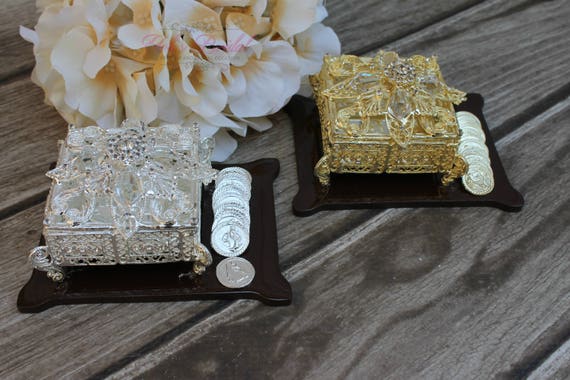 [picked up from Etsy]
FAST SHIPPING!!!!
Beautiful silver or gold wedding arras.
It includes 13 coins that are used on the Wedding Ceremony. Also makes a beautiful gift for the newly weds .
Please choose silver or gold.
It represents prosperity for the couple. In the ceremony the groom hands over the coins to the bride. He commits to become the provider of the household and the bride accepts becoming the administrator in both their best interest.
Can also be used for wedding rings, rosaries, jewelry or anything you want.
Approx. 3"x3" and 2 1/4"high
Tray 5"x4"
FAST shipping: We ship this item in 1 to 2 business days.
>>> Buy It Now ! <<<