SALE!!–When Things Aren't Going Your Way PANIC Frog Cross Stitch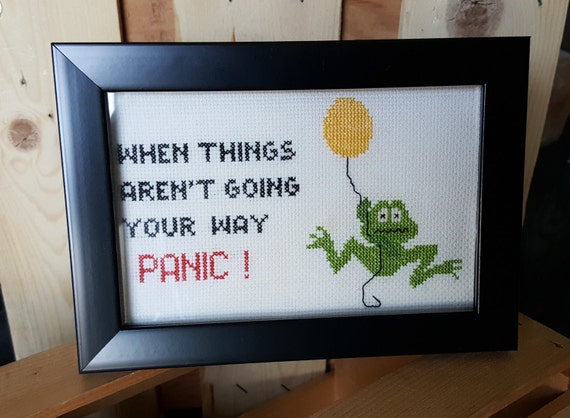 [Picked from ETSY]
We all have those times where panicking is just the easy thing to do. Or we have that friend. ha ha ha.
This piece comes framed in a black shadowbox frame that measures. 6 3/4" wide x 4 3/4" tall x 1/2" deep. It can stand on it's own or be hung on the wall. Frame has very slight unnoticeable imperfection on the back of the corners. I have lowered the price to reflect this.
Please be aware this piece was not made by me. I love to antique and when I found this gem I bought it then framed it. Fabric is in great shape not showing any discoloring. Threads have a nice sheen so I believe they are DMC embroidery floss. Fabric appears to be 18 count aida.
If you have any questions please let me know!
Gift Wrapping Available:

>>> Buy It Now ! <<<<