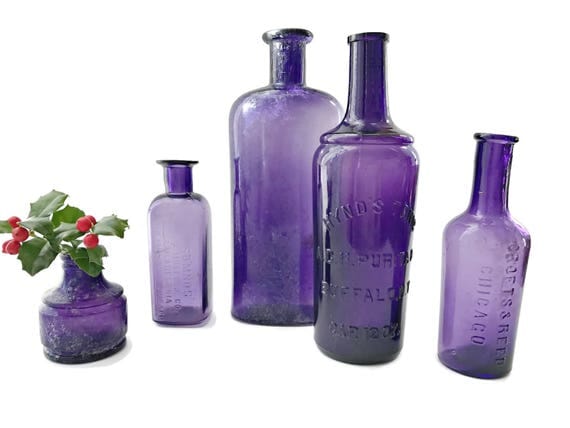 [picked up from Etsy]
5 Antique purple bottles. A unique collection of charmingly rustic old apothecary / medicine bottles in shades of deep lavender. Recently dug, salvage bottles including an old ink bottle.
The tallest bottle, 8 1/2" tall is unmarked.
Ink bottle embossed Sanford to the bottom.
8" Tall ~ Hyne's Tonic ( a hair tonic )
5 1'2" Tall – Crofts and Reed Chicago (a soaps and toiletry company early 1900's)
4 3/4" Tall – Somnos Philadelphia (druggest)
A variety of shapes & sizes ranging from 5 3/4" – 3 1/4" tall.
All in good but rustic vintage condition. Some rough spots.
Outsides are clean, but as old dug bottles they show the effects of having been buried, aged and mottled.
More antique and vintage tr…
$ 60.00
>>> Buy It Now ! <<<