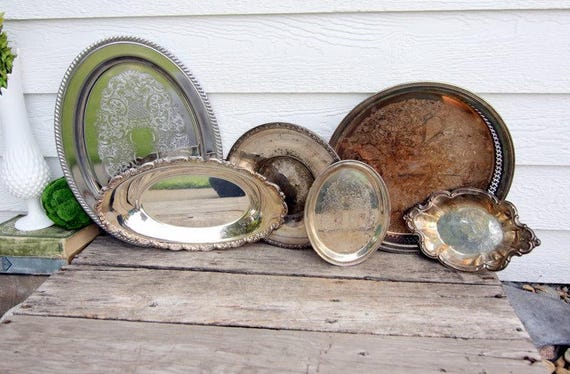 [picked up from Etsy]
I have assembled this old set of 6 vintage trays/bowls/serving pieces. These are so special and unique! Hang them as a creative wall gallery collage, set them up on your mantel for a dramatic effect, or use them as serving pieces. Some of these have maker's marks, some do not. These may be very valuable individually, I've seen a lot of silver pieces selling for $30-$100/piece. This set is perfectly imperfect, use these tarnished, or clean them up with silver polish.
Please look closely through pictures, the pictures really are the best description.
Approximate measurements:
Smallest piece: 6.25" x 8" small oval tray
Largest piece: 11.75" x 16" shiny silver oval platter
**Photo props not included. These are …
$ 65.00
>>> Buy It Now ! <<<