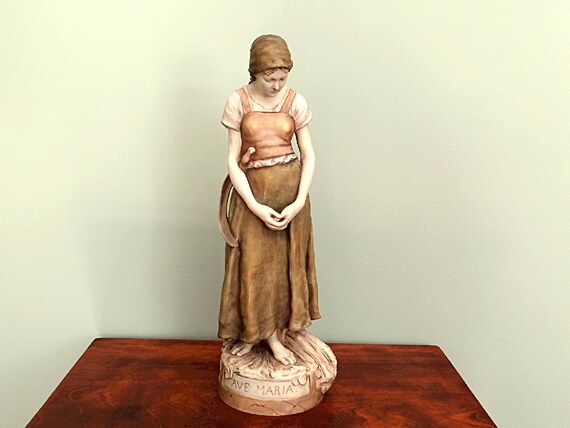 [picked up from Etsy]
This Royal Dux figurine depicts Ave Maria with her head bowed in prayer. With a sickle at her side and a sheaf of wheat at her feet, it appears she is taking a break from harvesting. Except for her flesh the polychrome porcelain has a light rubbing of gold. The inscription below her feet identifies her as "Ave Maria".
To the top of her head this antique porcelain figurine stands 14½" high. The base measures 4⅜" by almost 5".
It is antique Royal Dux that is in excellent condition. There are no nicks, chips, hairlines, stains or repairs.
The underside has the early pink "E" triangle mark with: "Royal Dux Bohemia". The pattern number "1237" is lightly impressed.
Another harvester figurine is available here h…
$ 178.00
>>> Buy It Now ! <<<