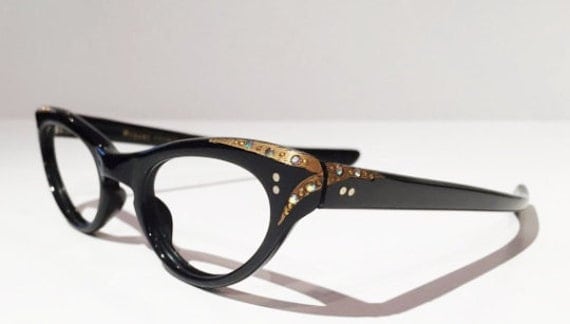 [picked up from Etsy]
Vintage Rhinestone Embellished Black Cateye Glasses Frames.
Handmade by Frame France in the 1960's.
Very solid and sturdy construction with snug 5 barrel hinge.
These are true vintage and in fantastic shape!
Eyeglass Frames are NOS or new old stock.
These frames have never been worn.
Check out the gold trim, AB Rhinestones and atomic embellishment.
Comes with original packaging sleeve.
Have your prescription filled or make them into some awesome sunglasses.
Makes a great birthday gift, too!
If you bought eyeglass frames anywhere else then you paid too much!
Width from hinge to hinge: 5"
Eye Size Height: 1 1/8"
Temple or Arm Length: 5 1/2"
Size Listed On Frame: 46/20 (Large) 3 available….
$ 106.00
>>> Buy It Now ! <<<