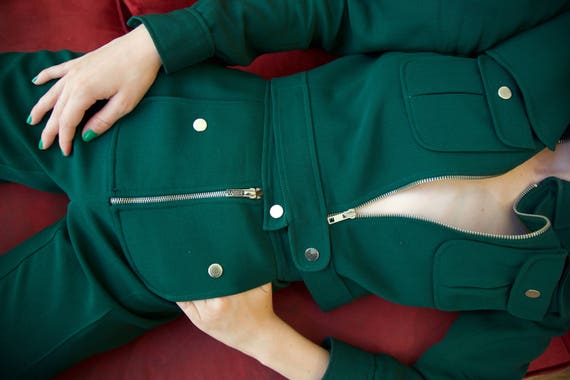 [picked up from Etsy]
André Courrèges, 60s fashion innovator, created this impeccably streamlined suit in what's now understood as his iconic retro-future look. Crisp pleats, boxy silhouette, zip closures, bellbottom trousers, snap sailor-style pockets and flatteringly sexy darts down the back create this museum-worthy garment from the 1970s. Timeless design leaves it to be worn by those with vintage and contemporary tastes alike. From his line made specifically for San Francisco-based luxury department store I. Magnin, and Made in France.
Very subtle stain on back (pictured).
Very minor and small discoloration under arms.
Size 0
Trousers:
26" waist
33" inseam
Jacket:
17" bust
14.5" shoulder
19" back-waist length
15" w…
$ 950.00
>>> Buy It Now ! <<<