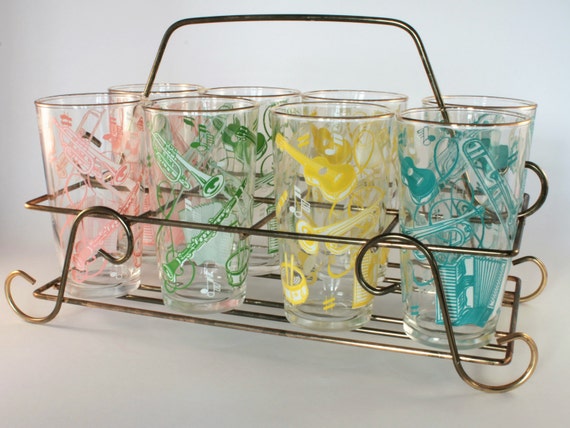 [picked up from Etsy]
Calling all hepcats!
Aside from a bit of wear that is consistent with age and light use, these colorful glasses (2 blue, 2 pink, 2 green, 2 yellow) are in really very good condition. The brass-tone caddy is a bit tarnished and one of the feet is bent, but this does not affect its utility. It likely can be pulled back to its original position, but I will leave that to the new owner who is surely less ham-handed than I am.
Approximate dimensions of tumblers:
Height 5"
Diameter (of glass mouth) 2 7/8"
Diameter (of base) 2"
Approximate dimensions of caddy:
Length 13 ½"
Width 6 ¼"
Height (to top of handle) 8"
Items are bubble wrapped for safe shipping.
Buyer pays shipping. INTERNATIONAL PURCHASERS: Be sure to read the &q…
$ 65.00
>>> Buy It Now ! <<<