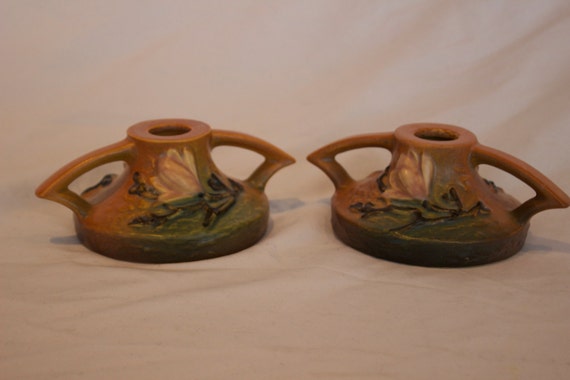 [picked up from Etsy]
Here's a pair of Beautiful Antique Roseville Pottery 1156-2.5 Candleholders dated 1943!
Mangolia design and each Candleholder is 2 1/2" high x 3 3/4" in diameter.
Beautiful condition – other than some very MINOR nicks under the base of one of the candleholders. These pieces have great color and not even crazing that I can see.
Also have other Roseville listings, if interested in combining let me know and will work out a better price.
Half of the Roseville pottery that is out there has been repaired and those in nice shape like this will grow in value.
Get a really nice piece of Roseville Pottery that is 75 years old!!…
$ 70.00
>>> Buy It Now ! <<<