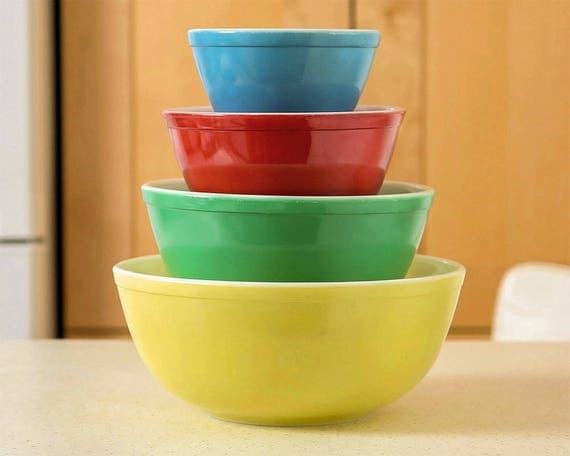 [picked up from Etsy]
These are the older, original 1940's thick-walled Pyrex Primary Color bowls. The bottom of each bowl is only marked "T.M. REG. PYREX U.S. PAT. OFF," with no numbers or sizes marked. This older set also has the nice extra thick foot rings, seen in photos.
These bowls are in very good to excellent condition. The outsides are nice and shiny with no paint loss, but they all have a few minor scratches. The insides all have some minor utensil scratches and marks from use, mostly the yellow bowl. Also, the inside of the large yellow bowl is not as white as the other three, perhaps from being used for baking.
Overall, a very nice set of 1940s "no number" Pyrex primary color bowls for display or use.
Blue, 1 1/2 pint, 5 3/…
$ 148.00
>>> Buy It Now ! <<<