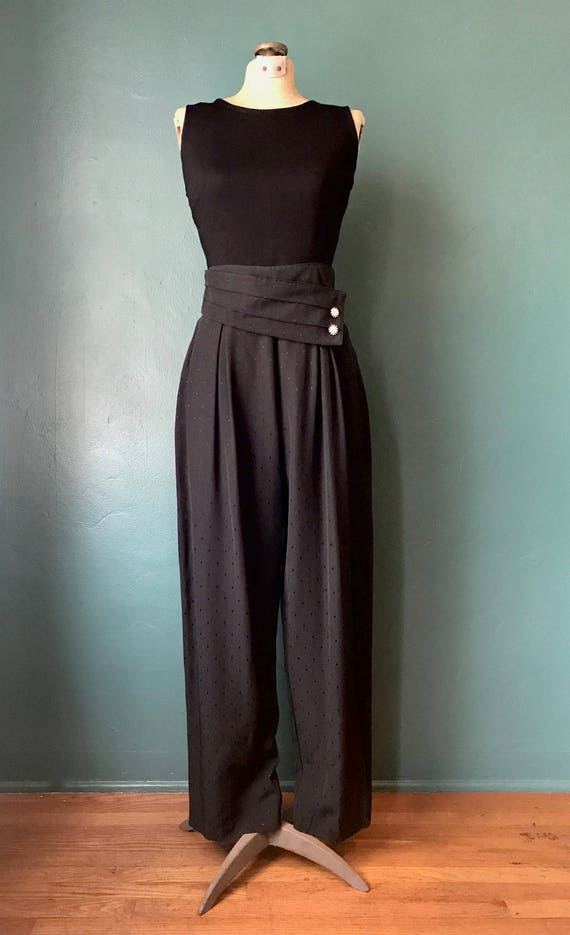 [picked up from Etsy]
Superb black pinpoint high waisted vintage trousers! Super high fitted waist with front sash cumberbun and original pearl and rhinestone buttons. Flat back with center zipper, pleated front, fuller in hips and thighs and tapered at ankle.
Fabric: 63% Rayon 36% Acetate
Condition: Great, no holes or snags. Minor discoloration on waistband as shown on 2nd pic. Please note that discoloration in pic has been exaggerated in order to see, but is barely noticeable without looking closely.
Size: 8, vintage. Best fits size 4. See Measurements.
Waist: 28"
Hips: 44"
Length: 40.5"
Rise: 15"
Inseam: 27"
Thigh circumference: 24"
Ankle circumference: 16"
Measurements are taken seam to seam while lying flat .
Doubled…
$ 32.00
>>> Buy It Now ! <<<