Vintage Unused US Postage Stamp 3c BOY SCOUTS issued 1950 .. Pack of 10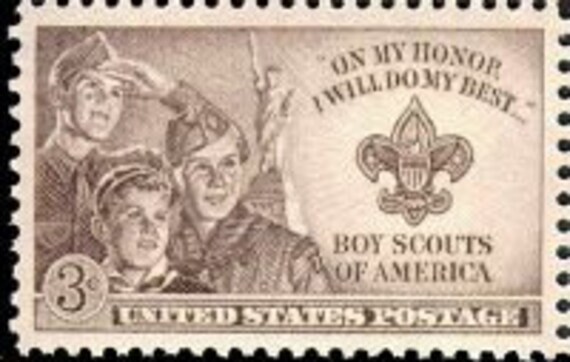 [Picked from ETSY]
Pack of 10 Vintage Unused US Postage stamps of the:
3 cent Boy Scouts of America Commemorative stamp.
Issued June 30, 1950
Scott catalog #: 995
Honoring the Boy Scouts of America on the occasion of the 2nd National Jamboree in Valley Forge, PA. This stamp depicts 3 scouts, the Statue of liberty, Boy Scout Membership badge and the beginning of the Boy Scout Oath.
10 Mint unused postage stamps with original gum as issued by the Post Office. These stamps are genuine and valid to use as postage for current mailing. Be sure to use enough total postage to meet the current postage rate for mailing a letter if you want to use them mailing.
Also good to use for scrapbooking or displaying in a small picture frame. It's a miniature work of a
>>> Buy It Now ! <<<<