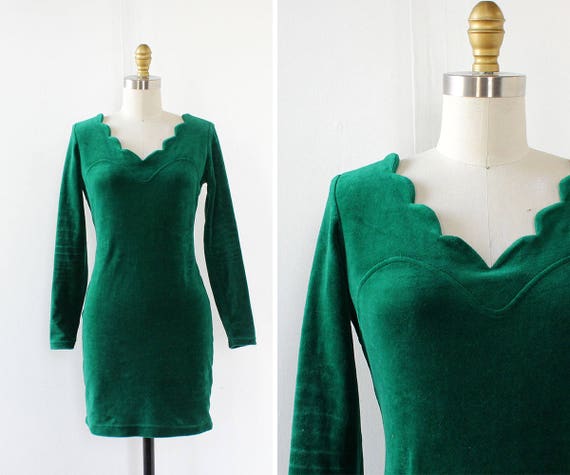 [picked up from Etsy]
Oh, hello there! Hot AF vintage ivy green velvet bodycon dress with scalloped neckline, dipped back and cool inverted seam detail at the back hem. Tight and stretchy long sleeve mini silhouette simply slays.
Label: Contempo Casuals • Made in USA
Size: Small
Content: Cotton Velvet (marked 100% "Cotton Contrast"?)
Circa: 1990s
Condition: Excellent / flawless
Measurements 
Fit notes – tight and stretchy and short!
Shoulder: 15"
Sleeve: 22 1/2"
Bust: 31"-36"
Waist: 26"-28"
Hip: 34"-40"
Hem: 32"-40"
Length: 31"
Shop more DRESSES http://etsy.me/1aO7U2s
10% discount for mailing list subscribers!
Sign up on ➳ www.omnia.shop ♥
>>> Buy It Now ! <<<