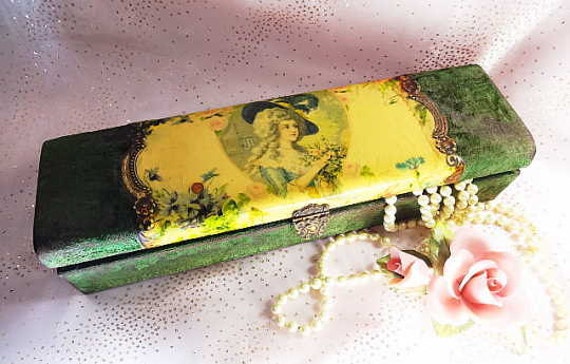 [picked up from Etsy]
This listing is for a wonderful vintage celluloid Victorian Glove box. The box is covered in a dark forest green velvet material. The center part is separated by scrolled celluloid in a fancy flourish design. A lovely Victorian lady with a plumed hat holding a bouquet of pink roses is the focal point. A pretty pink pleated material lines the inside of the box.
A gorgeous piece with loads of style and character an authentic Victorian era piece. Due to the age of the piece it does show wear the velvet has some worn spots and there are age related small cracks and water marks. I truly believe this only adds to the beauty and vintage aura of the piece.
Dimensions: The box is 13 inches long 2.50 inches high and 3.75 inches wide….
$ 65.00
>>> Buy It Now ! <<<