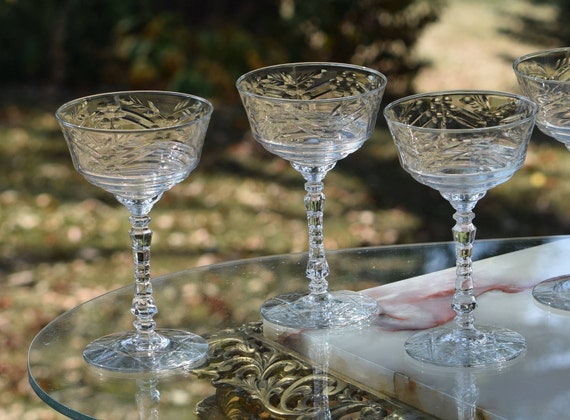 [picked up from Etsy]
Vintage Etched Cocktail Champagne Coupe Glasses, Set of 6
Your first look of these glasses and you will be amazed by the beautiful faceted stem and etched star design on foot. The stem is out of this world gorgeous! The glasses have etched flowers, stems and leaves with lines linking them together. A retro look. Love the shape of the bowl with the stem. Stunning!
These glasses were made by Rock Sharpe, pattern is Artic Rose, made in 1947. Which makes these glasses over 68 years old! This set is in perfect condition with no chips or cracks.
Make your drinks and happy hour even more fun with these glamorous vintage cocktail glasses.
Measurements: 6 1/8" Tall x 3 3/4" Wide at rim
>>> Buy It Now ! <<<