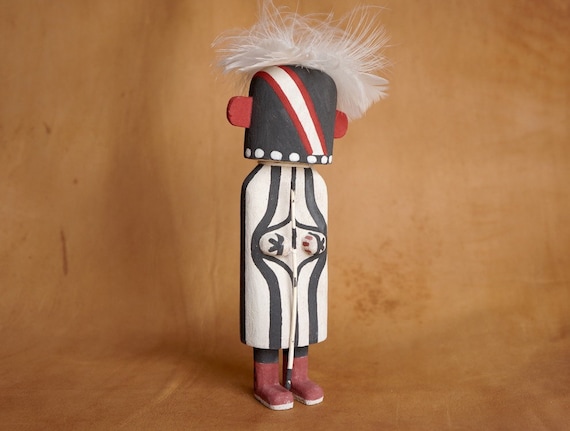 [picked up from Etsy]
Older Piki Eater kachina signed on the foot FJR.
He measures 8" tall and 3" at the widest point.
The Piki Eater is an unusual kachina who accompanies the Soyoko during the winter months. He is reported as being a lazy kachina who loves piki! His primary function is to come after load of piki – requiring it from the families he visits alongside his Ogre counterparts.
"The staff he carries is something that he leans up against so that he can eat Piki more comfortably.
His function is to take and taste the piki bread which is offered to Soyoko Wuhti. He eats it right away and thus forces Soyoko to take food rather than kids. This cheats Soyoko Wuhti out of her negotiation with the parents of the kids."
>>> Buy It Now ! <<<