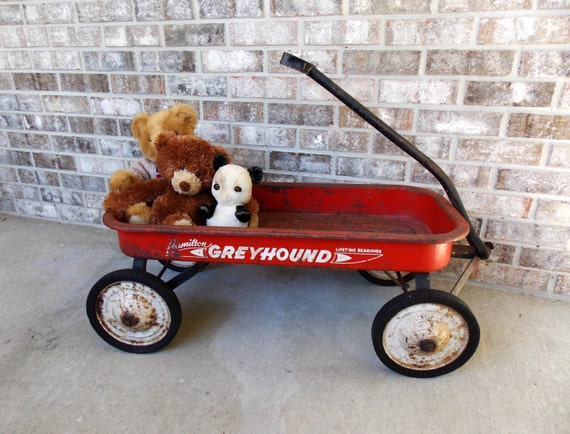 [picked up from Etsy]
Vintage Greyhound Red Wagon Hamilton lifetime bearings. Very rare find. Child's pull toy heavy gauge steel body with rolled top edge, wagon measures 30" long x 13" wide, stands 11.5" high. Right side is rustier than the other but the wagon is structurally sound and original. Hamilton Greyhound logo is clearly visible on left side. Tongue, yolk and bolts are in place and wagon pulls properly with the manufacturer's wheels and tires that measure 8" across. No hubcaps. Superficial rust and wear consistent with age and use. Please see photos for specifics.
The handle will be removed at the tongue for shipping but wheels and body will remain in place.
Many other photos are available, just ask and I will be ha…
$ 49.00
>>> Buy It Now ! <<<