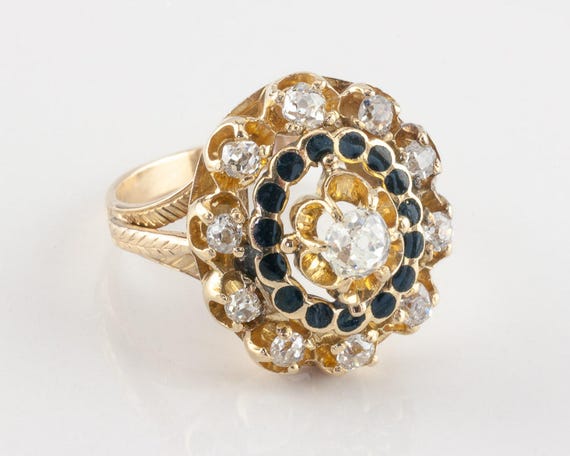 [picked up from Etsy]
Stunning vintage Victorian diamond ring from circa 1880. Features a beautiful 0.30 carat diamond with H color and SI1 clarity. This center diamond is an "Old Mine" style cut (a diamond cut that predates the modern "Brilliant Round").
The exquisite setting is made of 14 karat yellow gold and features an additional 0.30 carats of white accent diamonds which are also "Old Mine" cut. The ring also has a halo of black accents which we believe to be made of Jet, an organic gemstone that was very popular in the late Victorian era, particularly in "Mourning Jewelry".
The ring weighs 6.1 grams, rises 10mm off the finger, and is a size 5. The gold purity has been verified with X-Ray Fluorescence testing.
>>> Buy It Now ! <<<