925 – Nova Opal Necklace, Sterling Silver Nova Opal Heart Pendant, Opal Doublet, Statement Jewelry, Sterling Silver, Aurora Opal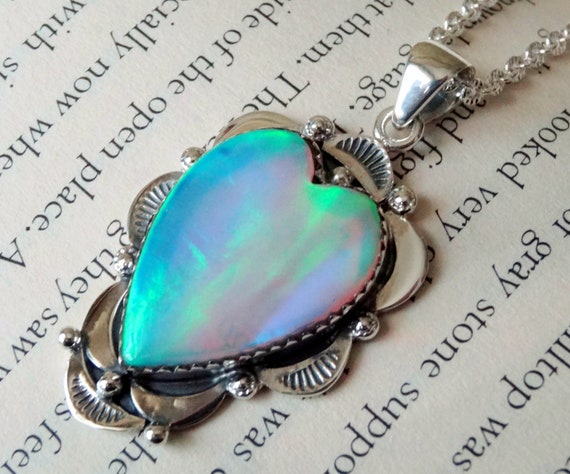 [Picked from ETSY]
READY TO SHIP!
💙Handmade Nova Opal Sterling Silver Heart pendant on a Sterling Silver Chain (you pick length)
Featured in this listing are sterling silver, handmade, Nova Opal Heart pendants on a Sterling Silver Chain.
❤︎Set in solid Sterling Silver 925 & Fine 999 Silver
❤︎Each Aurora Opal has been hand set into a serrated bezel
❤︎Finely, hand detailed silver work, each is handmade and no two are exactly alike.
Stone: Nova Opal (25x19mm) – A special imitation opal certified by GIA.
Metal: Sterling Silver
Measurements of Pendant: 2" x 1" (including bail)
🌟Please keep in mind that each Nova Opal is hand cut, and each setting handmade, so will vary in exact shape, color and size. No two are alike, b
>>> Buy It Now ! <<<<