Gray/Black Jacket / Floral Black Jacket/Bohemian Flower Jacket/ Women Black Jacket / Boho Cotton Peacoat Eve Hippie | Black Jacket for Women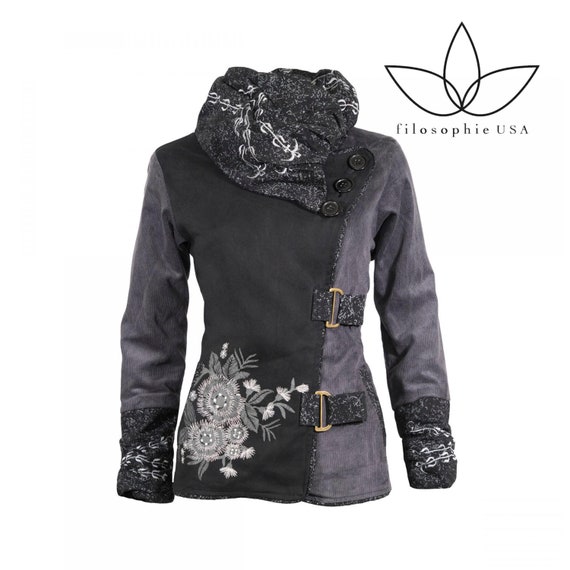 [Picked from ETSY]
Welcome to filosophieUSA!
Brilliant | Snug | Chic !!!
Walk into winter in these fleece-lined, corduroy-cotton handmade bohemian jackets. The jackets switch from the primary color ( BORDEAUX/GRAY/PETROL ) on the left side to black on the right. Sleeves are in the primary color. The back is tapered in two colors. From Fall to Winter to Christmas and New Year's, these jackets will create an unforgettable fashion statement. We offer these floral jackets in Size Small, Size Medium, Size Large, Size XL and Size 2XL.
The scarf collar can be unbuttoned and folded into a variety of head coverings.
A scribble pattern of misty-blue (for Petrol), dark-pink (for Bordeaux), smokey-gray (for Gray) and black is used for the collar, pocket trims, sl
>>> Buy It Now ! <<<<