50s Skirt / 1950s Skirt / High Waist Skirt / Full Skirt / Circle Skirt / 50s Circle Skirt / 1950s Circle Skirt / New Look Skirt / W 26 1/2"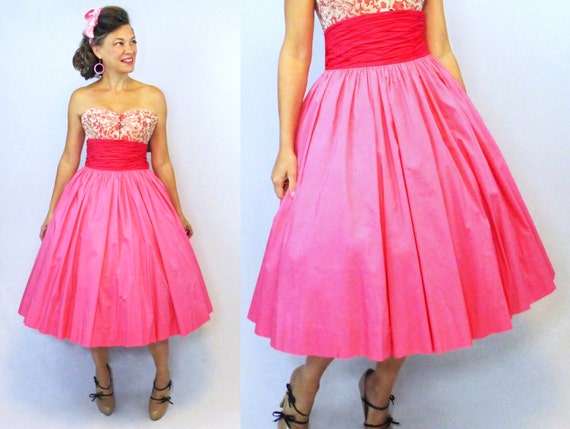 [Picked from ETSY]
1950's Skirt with high waist. Hot pink ruching detail on high waist. Very full skirt in softer pink. Photos show an additional crinoline, not included, but the skirt has a self crinoline, and, if starched, the skirt would probably not need an additional crinoline. Back zip with hook and eye. 2 1/2" to let down at hem. Size label states size 9. No maker label. No material content label but most likely cotton skirt, crepe ruching. Excellent condition.
Best fits a modern size 0/2
Measurements:
Waist: 27" at top of ruching
Ruching detail (high waist): 5 1/4"
Natural waist: 26 1/2"
Hips:free
Length from waist (bottom of ruching) to hem: 26"
Sweep: 59 1/2"
Follow me on Instagram to see other pictures of t
>>> Buy It Now ! <<<<