Pictorial Magazine Template – PSD CS6 – CC & IDCS4 – CC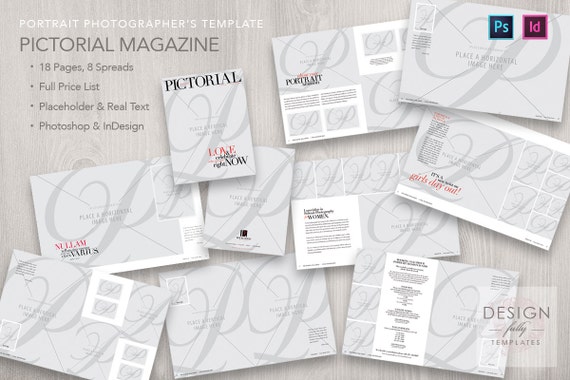 [Picked from ETSY]
Pictorial Magazine Template
Photoshop CS6 – CC
& InDesign CS4 – CC
(Download the version for the Program you want INDD or PSD.)
TEMPLATE INCLUDES:
• Front and Back Covers
• 18 single pages (8 Page Spreads)
• Includes a fully written price list.
• Placeholder text with written text throughout.
• Placeholder Quote
• Full bleed for printing!
PAGE SIZE: 8.5 x 11" (facing pages) displayed as 11×17" spreads
Ideal template for print!
* * * * * * * * * * * * * * * * * * * * * * * * * * * * * * * * * * * * * * * *
*Fonts not included.
Fonts can be purchased at MyFonts.com
The fonts used in this template can be purchase separately at MyFonts.com
PLEASE NOTE: The fonts I use in the design of this and all my templates a
>>> Buy It Now ! <<<<