Rebajes Sexy CINCH, Rare Mid Century Copper Art Cinch Belt,Brazilian Masks, New Look 1950s, Stretchy Skinny Belt, Vintage Accessories,Women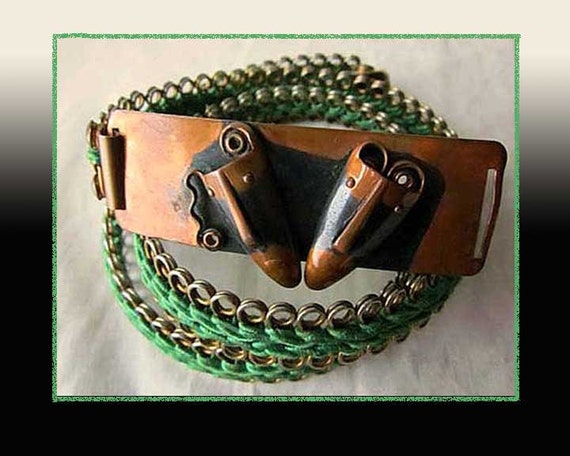 [Picked from ETSY]
Look through my shop and you'll see that Rebajes' Brazilan Masks series is my favorite of his designs.
The belt is hard to find, especially in great condition as this one is. The buckle is slim, with those droll male and female faces, and the green threaded through is elastic, which makes this a sexy waist cincher a la 1950s "New Look"
A super find from one of the masters of modernism…..
Size: Buckle measures 3" long x 1 1/4", belt will fit @ 27"-29" waist
Marks: Signed Rebajes on back of buckle
Condition: Very good condition, elastic is still stretchy and not frayed, buckle retains original patina
Inv # 142962
>>> Buy It Now ! <<<<