DISCLOSURE: This post may contain affiliate links, meaning when you click the links and make a purchase, we receive a commission.
Kitsch Cat Print; Long-Haired Tiger Kitten Playing w/ Flowers, by Margaret McDonald Phillips; '60s Vintage Wall Decor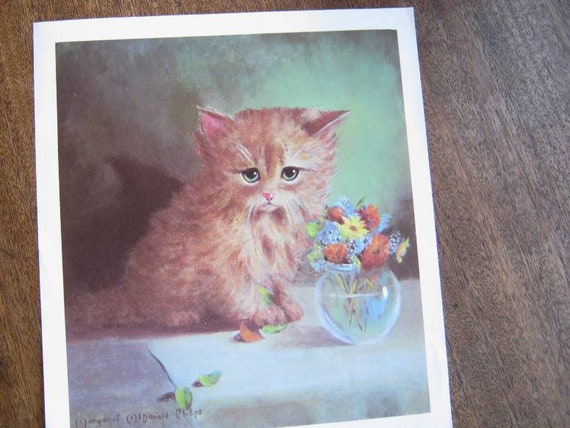 [Picked from ETSY]
Adorable orange kitten picture by Margaret McDonald Phillips; known for her detailed artwork. Issued by B.P. Co. in the 1960s or early '70s, this lithographed print is in nice condition, with an occasional light wrinkle that should flatten out easily. Size is 9 x slightly over 10." Add a frame or a simple backing & hanger – enjoy!
⬇⬇⬇⬇
HOW WE ROLL (FAQS):
Our Shipping – aims to rival or top 'big box store' delivery times (items ordered by 1 pm PST usually ship same day). Tracking included unless o/w noted.
International shipment? Happy to extend hands across the water; usually via 1st Class Int'l. Whenever U.S. shipping is included we reduce int'l. if possible.
Packaging/reusing – We include clean 2ndhan
>>> Buy It Now ! <<<<