Moonstone Tiny Gemstone Pebbles, undrilled chips lot of 100 tumbled stones, Moonstone feldspar small pieces for crystal grids, orgonite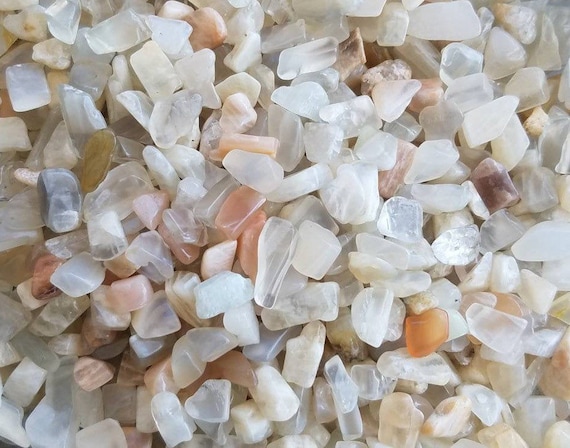 [Picked from ETSY]
Moonstone feldspar xx-small Gemstone Pebbles, lot of 100 tiny undrilled stone chips, tumble polished in shades of milky white, cream, beige, brown, gray, and peach.
These are NOT beads, NOT drilled!!
These are xx-small, tiny semiprecious stone chips, small, tiny pebbles, average about pea-size. See photos for size reference.
Very nice quality tumble polished multi-color Moonstone chatoyant (flashy) feldspar undrilled chips, gemstone pebbles, sold by the lot of 100. Mostly milky white to cream colored, about 20% gray and peach color in this mix.
These small, tumbled Moonstone crystals are perfect for small crystal grids, gemstone candles and soaps, essential oil bottles, orgone crystals (orgonite), pyramids and other resin castings, hand
>>> Buy It Now ! <<<<