DISCLOSURE: This post may contain affiliate links, meaning when you click the links and make a purchase, we receive a commission.
Shibashi means "18 movements" in Chinese. This first series inspired by Yang style Tai Chi chuan movements (fighting Tai Chi) was created in 1979 by Professor Lin Housheng. Tai Chi Qi Gong Shibashi is part of the official study program at the University of Medicine in China.
Practiced in many Asian countries (Indonesia and Malaysia as a national exercise, Thailand…), Tai Chi – Qi Gong Shibashi has also received a recommendation from the United Nations (development program) for its promotion.
There are several series of Shibashi movements (8 to my knowledge) but we will be satisfied with the first series of 18 movements. Curiously Shibashi is not very well known in France (much more in Germany in particular under the name of the 18 marvellous or 18 harmonious).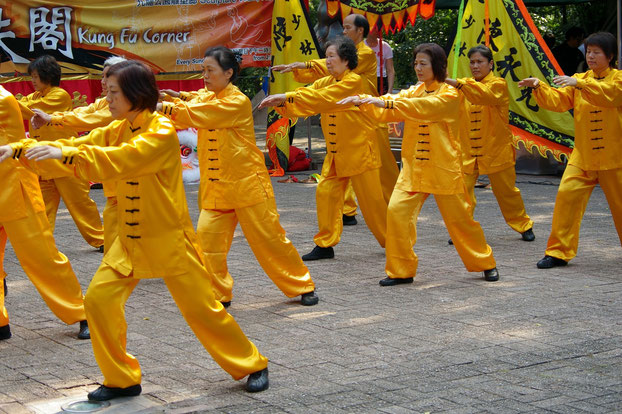 This technique of Qi Gong in motion amplifies and balances the circulation of Qi in the body to bring vitality and longevity. It is also particularly recommended for suffering people (hypertension, lumbar pain, cardiovascular or digestive disorders, respiratory diseases…).
THE 18 MOVEMENTS OF SHIBASHI
IQ ASSESSMENT
OPEN THE CHEST
MAKE THE RAINBOW DANCE
SPREAD THE CLOUDS
ROLL UP YOUR ARMS
ROWING ON THE LAKE
LIFT THE BALL
CONTEMPLATING THE MOON
PUSH THE PALMS
PLAY WITH THE CLOUDS
RAISE THE NETS AND OBSERVE THE SKY
PUSH BACK THE WAVES
THE PIGEON SPREADS ITS WINGS
PLAY WITH FISTS
THE FLIGHT OF THE WILD GOOSE
MAKE THE BIG WHEEL TURN
KICK THE BALL BY BOUNCING THE BALL
EASE IQ
6X or 3X repetition on each side.
Each week, we will describe how to achieve one of the 18 positions