DISCLOSURE: This post may contain affiliate links, meaning when you click the links and make a purchase, we receive a commission.
Tonkatsu is a Japanese dish made of breaded and fried pork. Ton means "pork", and katsu is the abbreviation of the English cutlet, coming from the French côtelette. It is accompanied by Worcestershire sauce, as well as minced cabbage and karashi. It is often served with rice and miso soup.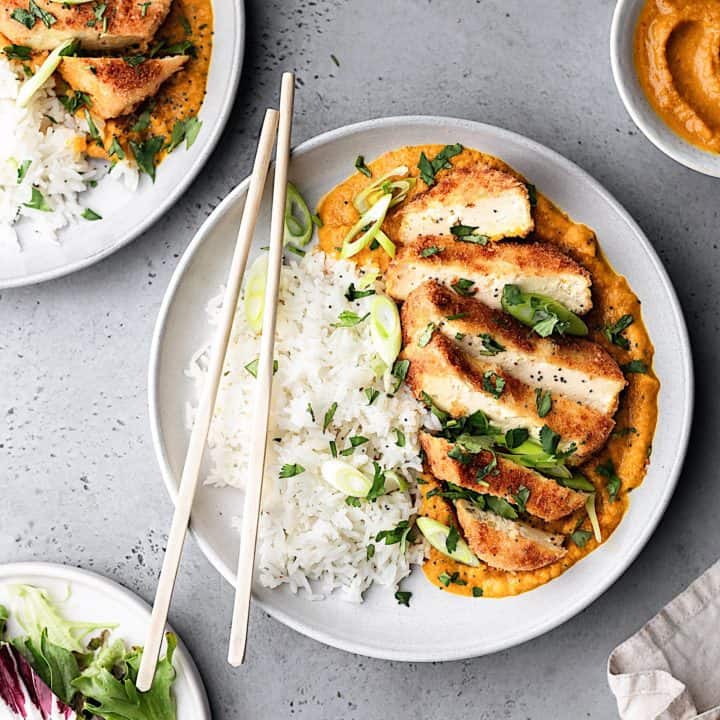 Preparation: 30 min
Cooking time: 20 min
Ingredients (for 4 persons) :
125 g of flour
100 g breadcrumbs (panko)
120 ml of water
5 blocks of tofu (170g)
vegetable oil
grated white cabbage
lemons
tonkatsu sauce
The recipe step by step
First, soak the tofu blocks in hot water for 10 minutes until the water is absorbed.
Mix the ingredients for the sauce in a saucepan and bring to a boil. Then add the drained tofu blocks and simmer for 8 to 10 minutes over medium heat until the liquid is absorbed.
Dab the blocks in the flour then mix 1 cup of flour with 1/2 cup of water to make a thick dough. Dip the sliced tofu blocks in the flour and roll them in the bread crumbs.
Heat the oil for frying to 175° then slide the tofu pieces in and fry them until golden brown and crispy. Leave to rest on baking paper.
Serve hot with grated cabbage, lemon slices and tonkatsu sauce.
Enjoy !