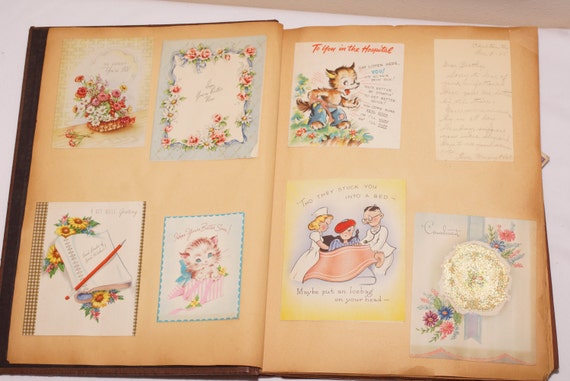 [picked up from Etsy]
Here is a nice old Scrapbook.
I purchased this from an estate auction. It is very unique as the first half is all Get Well soon type cards and then you get to the middle and there are 2 blank pages – it then becomes Sympathy cards.
74 Get Well Cards
57 Sympathy Cards
There are multiple envelopes also in the album with personal letters inside.
On the back page is a stack of loose cards and letters that I didn't count in my total.
I assume the contents of this scrapbook are glued to the pages as they stay put when turning pages.
Some cards may have tears or creases. The pages of the book are slightly discolored due to age and have slight rips in spots.
Book measures 12" x 15 3/4"
This item is truly one of a kind as i…
$ 80.00
>>> Buy It Now ! <<<